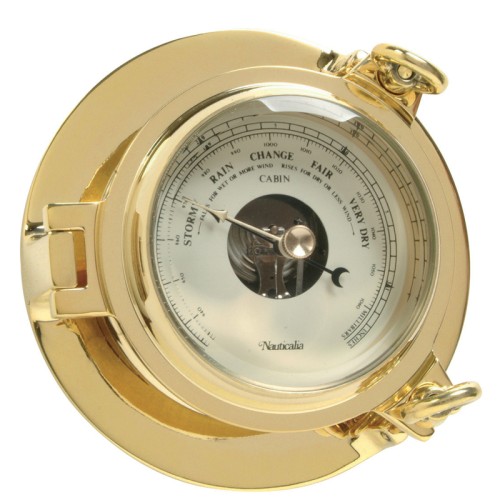 New
Cabin Barometer (Brass)
Shipping Rates
UK Shipping cost: £3.99
Europe Shipping cost: £16.54

Stock:

In Stock

Model:

N7103
The Cabin Porthole Range of Clocks, Barometers and Tide Clocks have hefty solid cast brass casings, scuttle clamps, bevelled glass fronts and brass hands with black subsidiary indicators on light cream faces.
The movements are good quality - battery-operated quartz for the clocks and silvered aneroid for the barometers.
Clocks have bold Roman numerals and use one AA battery.
Barometers have stainless steel aneroid movements showing millibars and inches of mercury.
Tides are influenced by the orbit of the moon around the Earth. To show this, our tide clock has an extra hand, which makes a complete sweep at the lunar rate of approximately 12.5 hours instead of the normal 12. (Please note: because the lunar cycle varies with the Earth's, there are times in a month when actual tides are a few minutes ahead or behind the clock.)
Intended for smaller vessels, or a large yacht's cabin, these solid brass instruments measure 5.5" across, with a depth (excluding scuttle clamps) of 2". Dial diameter 3.5".
Size:
Base: 140 mm
Dial: 89 mm
Height: 51 mm