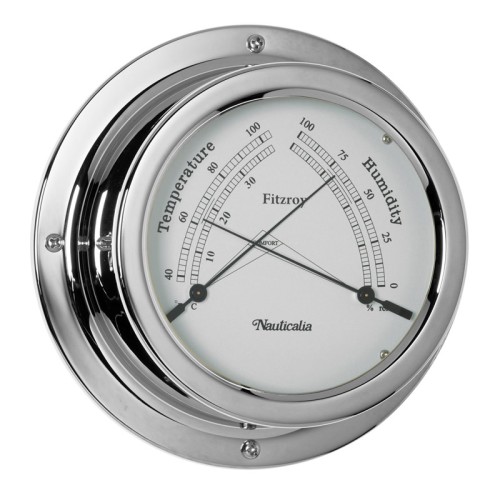 New Hot
Fitzroy QuickFix Thermometer/Hygrometer (Chrome)
Shipping Rates
UK Shipping cost: £3.99
Europe Shipping cost: £16.54

Stock:

In Stock

Model:

N6749
The Fitzroy range of instruments have chrome plated Brass cases with super durable, tarnish-free coating and QuickFix fitting system.
This unique QuickFix system allows the instrument to be locked hard to a bulkhead or wall but removed, in seconds, by hand.
The instruments are supplied with a base plate which is screwed to the wall or bulkhead (instructions and drill hole template included). The instrument then simply slots over the base plate and with a gentle twist, is locked on. A reverse twist removes it again. This makes changing batteries easy, removal for storage easy, and avoids the tricky job of not scratching your polished case when screwing the instrument to the wall.
QuickFix can also act to seal the instrument mechanism making it waterproof.
Note: barometers with the QuickFix system do not have the full waterproof system as these instruments need exposure to air pressure in order to operate.
Size:
Base: 150 mm
Dial: 95 mm
Height: 40 mm